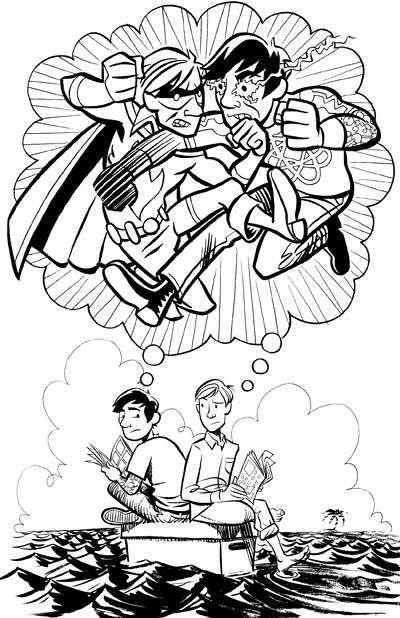 Local pals and
Destination: Blog!
collaborators,
Chris
and
Curt
, are off to my second favorite show of the year,
MoCCA
! They'll be peddling their first comics effort,
Let's Be Friends Again.
Above is a back cover image I drew for them. So, you know, if you're going, drop by their 1/2 table and say "Hello." Especially if, like me, even at your second favorite show of the year, you always hit that point where you start to feel all grumpy and misanthropic. They will reinvigorate you with their gleeful enthusiasm for all things involving pictures inside of panels.
In other news, I recently finished teaching a summer class. It was a very intense three weeks. How intense? The students averaged over 80 posts to their class blogs. And the work is really good, too! Take a look:
Alice
Amy
Dakoda
Lisa
Jeremiah
Kenneth